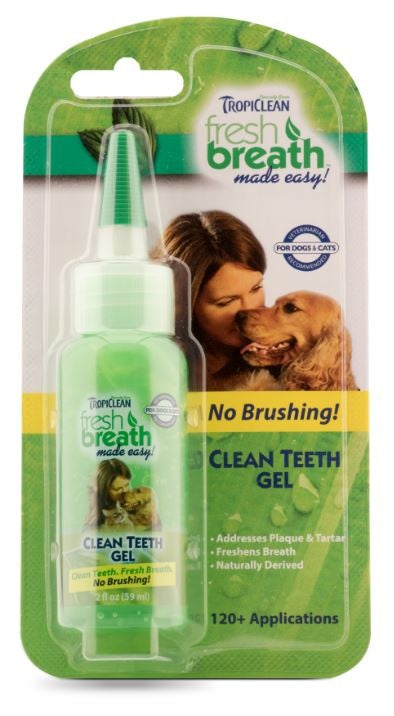 Tropiclean Fresh Breath Clean Teeth Gel for Dogs
---
In stock, ready to ship

Inventory on the way
MADE IN THE USA!

Tropiclean Fresh Breath Clean Teeth Gel is a proprietary blend of natural and holistic ingredients that work together to produce a healthy oral environment. This gel does not require brushing while it effectively kills the germs that cause plaque, gingivitis, and bad breath. It also works to soothe minor gum irritations.

Natural mint is often used in oral care. It is a special germicidal and breath freshener, meaning that it inhibits harmful bacterial growth inside mouth and cleans the tongue and teeth. Mint oil is a good antiseptic and antipruritic, so it is soothing to the gums and can help cure infections.

Glycerin has antibacterial properties. During experiments, living bacterial dental plaque has been observed actively moving about under a microscope. When a drop of glycerin is add to the solution, all of the bacteria's ability to move independently and spontaneously instantly ceases.

Aloe vera juice has been scientifically proven to fight against tooth decay. Your pet's mouth is a breeding ground for bacteria that attack the teeth and gums, and leads to bad breath and other conditions such as gingivitis, peridontitis, and stomatitis. Aloe vera has many anti-bacterial qualities that fight bacteria and work to prevent these problems.

Green tea leaf extract contains fluoride that is beneficial in helping to prevent tooth decay and strengthen the teeth and gums. It also contains high levels of polyphenols that help prevent the formation of plaque and can inhibit bacterial growth.
Ingredients
Purified water, grain alcohol, natural mint, glycerin, natural cleanser, aloe vera leaf juice, carbopol, chlorophyllin, green tea leaf extract.
Shipping available to the contiguous U.S. on all food, treats, and supplies.

Shipping not available for puppies & kittens. You'll want to meet them in person here at our location!